CASM Electric Cylinder
---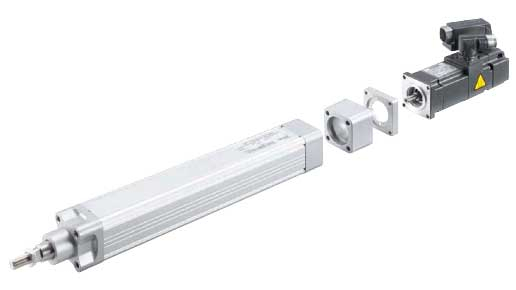 Ewellix
CASM electric cylinders are ideally suited to performing fast and powerful linear movements.
Unlike pneumatic or hydraulic cylinders, CASM electric cylinders are flexible and thus can be positioned precisely. Furthermore, due to a reduced number of components, the whole system is more cost-effective, resulting in lower energy and maintenances costs.
The CASM modular concept enables easy connection to your preferred motor and control system. This can reduce design and programming costs considerably.
Thanks to high-grade materials, a sealing system with IP54S level protection, and high-quality manufacturing, CASM electric cylinders can also be used long-term even under adverse conditions. The low-backlash design provides positioning precision of up to ±0,01 mm. Together with various screws for different speeds and forces, CASM electric cylinders are the optimum solution for a wide variety of applications.
CASM electric cylinders powered by brushless DC motors are ideally suited for fast and powerful movements. Replacement of pneumatic cylinders has never been easier. Just parameterize the cylinder by using the SKF Drive Assistant software and benefit from variable speed, high positioning accuracy, high force and long lifetime. The highly efficient electric cylinder will help to increase productivity with less energy consumption and therefore less CO2 emissions. Due to the tremendous energy savings electric cylinders provide, when compared to pneumatic solutions, the investment cost will be paid back in a short time period. After the parameterization, the DC powered cylinder can be operated independently by PLC or by switches. The motion controller is already built in.
For further information, please contact us.