Linear actuators
---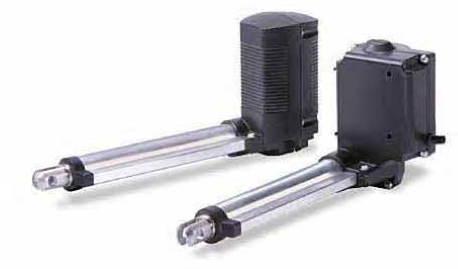 Ewellix linear actuators
Whenever there's a need for precise, repeatable linear movement, electric linear actuators are the route to take.
EMS is a specialist distributor of advanced linear motion and actuation products from Ewellix, serving the UK and Ireland. With over 35 years of experience in linear and rotary actuation systems, EMS offers Ewellix's range of linear actuators to satisfy the most complex of requirements, along with control units, switches and other accessories.
Whether you're looking for a high-speed linear actuator or one that offers greater force, EMS can provide a linear actuation solution to meet your needs.
CAJA 35C
Compact, quiet and medically approved to IEC 60601-1, the CAJA 35C linear actuators have been designed specifically for medical applications. The integrated Quick Release function, which can be operated via a separate remote control, enables manual movement of equipment such as hospital stretchers. CAJA 35C linear actuators are available in push loads of up to 3500N, with a maximum stroke length of 250 mm.
Matrix
For more demanding medical applications, the Matrix linear actuator range is a perfect fit. Offering the same certification to IEC 60601-1, these linear actuators enable access to much higher loads and speeds. With availability in push forces of up to 8000N and maximum speeds of 13mm/s, these high speed linear actuators are suitable for use in a wide range of applications such as hospital beds and patient hoists.
Ecomag
Ewellix's Ecomag series features low-cost modular linear actuators designed for modern furniture and movement aids. These 24V DC linear actuators are available in two basic sizes, able to achieve push forces of up to 6000N. The modular design allows for up to five actuators to be connected in any one system.
Runner
The Runner is a compact, high-performance linear actuator, able to lift loads up to 12 KN at speeds of 4mm/s. With a new and improved gear transmission system, the actuator minimises noise and vibration, making it ideal for applications with high sensitivity.
This 24V DC linear actuator comes with a first failure safe control unit as standard, which supports up to three linear actuators. It's also approved to IEC 60601, and is compatible with other actuators and control systems, making it a perfect addition to existing solutions.
CAHB
Able to operate in temperatures between -40°C to 85°C, the CAHB linear actuator series is suitable for applications within more demanding environments. With virtually maintenance-free operation and smooth, fast movements, the CAHB range is built to help maximise productivity. These actuators are available in push forces of up to 6000N, with maximum speeds of 60 mm/s and stroke lengths of up to 610mm.
CAT
Where versatility is desired, the flexible CAT linear actuator series may be the best fit. There are 13 motors to choose from across a range of voltages, making customisation more accessible and achievable, even with standard components.
Forces from 400N up to 4000N are possible, with stroke lengths up to 700 mm and operating speeds as high as 174 mm/s. With three standard gear ratios and spindle options, along with a wide variety of fixing options, this range can be customised to best suit the application.
CAR
For mid to heavy duty applications, Ewellix's CAR range of linear actuators may be the best fit. Their robust construction offers high durability, reliability, and a long service life, with units available across a range of voltages. Forces up to 6000N are possible, with stroke lengths up to 700mm.
CAP
The CAP series offers a range of robust, reliable linear actuators ideal for industrial applications. With a virtually maintenance-free operation and a modular design for easy integration, this series is both easy to install and operate. The CAP linear actuator series is available in push forces of up to 3500N, achieving speeds up to 30 mm/s.
Control Units
Ewellix linear actuator controllers, also supplied by EMS, are available to complement the range. These allow for more centralised control, with overload and temperature protection to ensure safe operation at all times.
VCU
The VCU is a compact control unit suitable for up to five actuators. With a service life of more than 100,000 cycles and a rechargeable battery to ensure operation even in power outages, the VCU can be relied upon to provide safe and effective control.
MCU
The MCU controller is designed to provide 24V DC battery operation for the Matrix, Ecomag and Runner linear actuators.
The entry-level MCU unit features an exchangeable battery pack with a capacity of 4.5A/hr. It also has an LED light and audible warning when battery levels are low.
The mains adapter for charging can be plugged directly to the control unit or via a separate wall mounted base station, which gives the flexibility and comfort that a fully charged battery is always close at hand.
To learn more about Ewellix' linear actuators, you can visit their website here.
Custom designs
Can't find a linear actuator to meet your needs from our standard ranges? A custom linear actuator system could be the solution.
EMS manufactures complete bespoke solutions for your application. With our collaborative and consultative approach, we keep you involved in every step of the journey to creating your unique system. You can read more about our custom design process here, or, to discuss your own individual requirements, please contact us.