Linear Actuators
---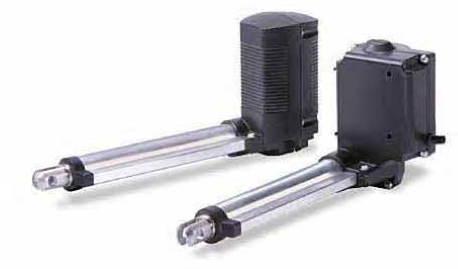 Ewellix
Matrix
This flexible modular linear actuator series will suit a wide range of applications, such as hospital beds, therapy couches, pendants and patient hoists. Available in push forces from 1500N to 8000N, stroke lengths of 50 to 700 mm and static safety factors x4 thus ensuring this range meets the highest demands and in doing so is approved to EN 60601. The modular construction which, includes 3 sizes of gearmotor and 3 spindle choices enables a range of performances to be reached in 24V DC, 230V AC and 120V AC, without compromising lead-time. Options include encoders, safety nuts, emergency lowering and many more. The range is complemented by a series of control boxes providing multi-function and parallel control with mains and battery operation, together with ergonomic desk, foot and handheld switches for all applications.
Ecomag
A low cost modular linear actuator series for modern furniture and movement aids. Two basic sizes to give push forces of 2000N up to 6000N, and a choice of stroke from 50 to 300 mm. These 24V DC actuators are available with a comprehensive range of control boxes and handswitches for the connection of a maximum of 5 actuators. Standby Battery power and infrared switching options are also available.
CALA
Where space is at a premium this 24V DC compact in-line actuator range will suit many industrial applications. With a maximum body diameter of just 52mm and stroke lengths available up to 200mm this range offers excellent versatility. With a dynamic force of 600N and optional limit switches and fixing attachments this unit gives excellent size/performance ratio.
Runner
The RUNNER is a very compact and strong high-performance actuator, able to lift loads up to 12 KN at speeds of 4mm/s. The new efficient gear transmission ensures that the actuator runs very quietly, with low vibration, and the robust design and construction results in a long lifetime. The symmetrical construction of the actuator and the position of the spindle assembly means that the actuator can be mounted on either side without interference and with a maximum width of just 94mm. The RUNNER system comes with a first failure safe control unit for the operation of up to 3 actuators, which can be stand alone or directly mounted on the actuator. The standard version includes a safety nut and limit switches as well as a Jack-plug (DIN with optional encoder). With a safety factor of 4, for stroke length of up to 250 mm, the RUNNER is ideally suited for medical applications and again is approved to EN60601. In addition this actuator is compatible with other actuators and control systems, making it a versatile addition to the range.
Mobilette
The MCU control unit is designed to provide 24V DC battery operation for actuator types Matrix, Ecomag, Telemag, Runner and Maglift. The entry-level version of the Mobilette control unit is equipped with an exchangeable battery pack with a large capacity of 4.5A/hr. The battery supervision circuit provides visual and audible low level battery warning as well as deep discharge protection. Also as standard is an emergency stop button and the option for electrical emergency lowering switch. The mains adapter for charging can be plugged directly to the control unit or via a separate wall mounted base station, which gives the flexibility and comfort that a fully charged battery is always to hand. Hand and foot switches are available from our standard range on request.
CAT Modular
This highly flexible modular range of industrial actuators, gives a wide choice of specifications with long service life to satisfy most applications. There are 13 motors to choose from in a range of voltages from 12/24V DC to 110/220/380V AC. There are 3 standard gear ratios and 3 spindle options together with a wide variety of fixing options making this range truly versatile. This versatility gives a range of forces from 400N up to 4000N, with stroke lengths up to 700mm and operating speeds as high as 174mm/s. To supplement this high performance the actuators can also be equipped with adjustable limit switches, hall effect encoders, friction clutch, and electro mechanical brakes where necessary.
CARR Linear Actuators
The CARR range of industrial actuators offers a unique standard of mid-heavy duty performance combined with high durability, reliability and long service life. The robust yet compact construction offers a range of gear ratios and motor variations, which in turn drive the spindle unit, which uses a high efficiency SKF ballscrew. Units are available in voltage ranges from 12/24V DC to 110/220V AC delivering forces up to 6000N in stroke lengths up to 700mm. To supplement this high performance the actuators can also be equipped with adjustable limit switches, and electro mechanical brakes where necessary.
Magforce
The Magforce is a heavy-duty range of worm and wheel drive actuators designed to fulfil the most demanding industrial applications. Again available in voltages from 12/24V DC to 120/230/400V AC forces as high as 30KN are available from the standard range. The robust yet compact construction offers a range of gear ratios and motor variations to give various speed/force characteristics and stroke lengths up to 700mm. The units are equipped with a friction clutch as standard but additional limit switches or potentiometers are available on request.
Custom Designs
If you cannot find an actuator from one of our standard ranges then why not consider a customised solution. Based in Poole in Dorset, EMS manufacturing was started in November 1991, and has grown year on year to become a key strategic part of the portfolio of products and services offered by EMS. The concept was to add value to the products traditionally offered, and then to build on this to offer complete bespoke solutions. By adopting a completely open mind to what is possible, and taking on board the full needs and requirements of the customer, a custom design can provide the optimum solution. All designs are conceived in close communication with your design engineers and developed using 3D Solid Works enabling models to be exchanged thus reducing the development phase and time to market. EMS now supply custom mechanisms to many industries which include: automotive; medical; metrology; aerospace; control and instrumentation; ergonomic home mobility equipment; petrochemical industry; defence equipment; personal health and safety equipment; and many others.
For further information, please contact us.