Home > Products > Remote Handling > Extension Options > Mk3 Right Angle Adaptor - 1/2"
Mk3 Right Angle Adaptor - 1/2"
---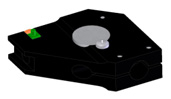 Part N° - 44-30360
This unit allows a tong assembly to operate through 90°. It is designed to be used with the tong head in a vertical orientation and not horizontal.
As for the extension unit, this adaptor will require the same change station as the tong heads to enable detachment from a handle assembly.
The fitment into this adaptor is also the same as for the extension unit, the handle and barrel assembly being inserted via the locking device into one end and a fixed length barrel assembly being clamped at the output end.
Trigger / push rod actuation through the unit is via the use of rack and pinion style push-rod inserts as shown below; this provides smooth movement with minimal play in the system.