Ball & Socket
---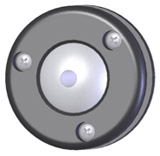 Part N° 44-10005 / 4S07-02/T - Tufnol
Part N° 44-10004 / 4S07-02/S - Steel
For use in gas tight enclosures etc, including glove boxes where the use of gloves is not desired. The sphere is for use with the 1/2" size barrels and can be specified with either a polished steel, or tufnol ball.
Used with a tong gaiter and gaiter adaptor, this unit will provide protection from toxic and other hazardous atmospheres. This setup will require a separate internal 'wall', approximately 50mm away from the outer diameter of the ball and socket to mount a tong port (see Tong Port Assembly) to which the gaiter is fixed.
This plan view shows the ball assembly and one of the three distance set screws. These screws are adjusted to provide the required 'stiffness' of the ball movement in the socket and can be used to lock the angular position of the handle assembly within a cell/glove box. The other three screws are for securing the assembly to the work container.
The outer diameter of the socket is around 108mm. The thickness of wall material the socket can be mounted in, whilst still controlling the ball properly, is around 9/16" equivalent to 14.28mm. The ball diameter is 2.5"