Electric cylinders from EMS
---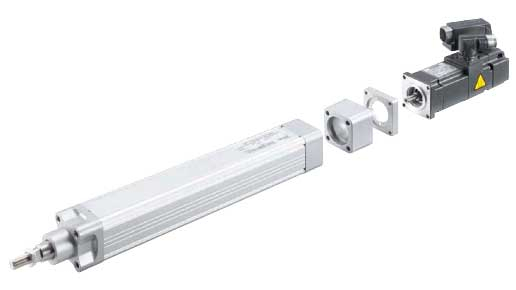 For applications where high-performance linear actuation is required, electric cylinders are an ideal choice. EMS serves the UK and Ireland with Ewellix's CASM range of electric cylinders.
Why opt for electric cylinders?
Electric cylinders powered by brushless DC motors are ideally suited for fast and powerful movements. They're a direct alternative to pneumatic cylinders for a range of high-performance actuation applications, including those found in factory automation and heavy machinery applications.
The highly efficient electric cylinder increases productivity while simultaneously demanding less energy, resulting in less overall CO2 emissions. The energy savings electric cylinders provide over pneumatic solutions means that the initial investment cost will be made back in a short time period. After parameterisation, the DC-powered cylinder can be operated independently by a programmable logic controller (PLC) or by switches, and boasts a built-in motion controller.
Ewellix electric cylinders
Ewellix's range of CASM electric cylinders are designed to perform fast and powerful linear movements. Unlike pneumatic or hydraulic cylinders, Ewellix's electric cylinders are flexible and can be positioned precisely. Furthermore, due to a reduced number of components, the whole system is more cost-effective, resulting in lower energy and maintenance costs.
CASM-100
CASM-100 boasts a modular design to suit the majority of applications in the automation and heavy machinery industries. Its design means each component is selected individually to suit the application, enabling easy connection to the motor and control system with the best performance cost ratio. This can reduce design and programming costs considerably.
Learn more about the CASM-100 here.
CASM-32/40/63
An alternative modular system, available in three different sizes with three corresponding screw types, the CASM-32/40/63 electrical cylinders are designed for applications where extended operating life, speed and force range are essential.
Thanks to high-grade materials, a sealing system with IP54S level protection and high-quality manufacturing, CASM-32/40/63 electric cylinders can also be used long-term, even under adverse conditions. The low-backlash design provides positioning precision of up to ±0.01 millimetres. Together with various ball screws for different speeds and forces, CASM-32/40/63 electric cylinders are the optimum solution for a wide variety of applications.
Learn more about the CASM-32/40/63 range here.
CASM-25
In addition to the standard electrical cylinder product range, Ewellix offers a customisable series — the CASM-25. The CASM-25 linear actuator is a customisable solution designed for light automation applications and the electronic manufacturing industry.
This miniature actuator can deliver high static and dynamic force with precise motion and a long operating life. The actuator is equipped with a high precision ball screw, full aluminium body, resulting in a very compact, high-power product.
Learn more about the CASM-25 range here.
Ewellix electric cylinders from EMS
EMS is a specialist distributor of advanced linear motion and actuation product manufacturer Ewellix for the UK and Ireland. To discuss your individual application requirements with a member of our team, and determine the correct product selection, please contact us.