Clamping and O-Rings
---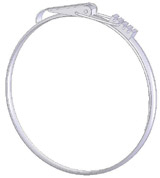 Part Numbers:
44/16102 for Ø6"
44/16104 for Ø7 9/16"
To form a gas tight seal between glove and port whilst still allowing the changing of a glove, e.g. no adhesive use, a clamping ring is used in conjunction with an O-Ring.
Two standard sizes of O-ring are available, the 6" and the 7 9/16". Operation is through a quick release clamp as pictured.
It must be noted that the correct size and type of O-Ring is used to prevent possible damage to the glove – resulting in leakage of contained atmosphere.
We can manufacture customer specified clamping ring sizes for spares or new projects, please contact us for further information.